Cost of building a retaining wall in Brisbane
Concrete sleeper block retaining walls have become one of the most preferred materials for retaining walls. The design and color possibilities, though, are what make it so popular.
It is also manufactured with a rearward sloping shape, making it one of the few materials developed expressly for retaining walls.

Concrete sleeper retaining walls do not deteriorate and need no maintenance other than cleaning on a regular basis. Furthermore, the materials used to make the sleeper are affordable to acquire and produce. However, since retaining wall bricks are so heavy, transporting is the most expensive part.
The price of larger ornate retaining wall segments is more than that of smaller ones. Larger blocks and sleepers, on the other hand, can contain more dirt and may be erected higher. Their surfaces may also be textured for ornamental reasons.
The cost of the retaining wall blocks accounts for the majority of the overall cost of the retaining wall. The 17-inch ornamental sleepers and blocks cost around $570 each pallet and cover over 35 square metres of wall surface: approximately $12 per block.
A basic grey concrete retaining wall block, also 17 inches in length, may cost around four times less than a decorated block: approximately $3.40 per block.
Labour costs for retaining walls
Aside from the cost of materials, the second – and perhaps most important – component of the pricing equation is the cost of labor to construct the retaining wall.
Typically, structural landscapers should be hired and will offer you an estimate that includes labor costs.
The cost of labor to create a retaining wall is between $50 and $75 per hour. If a structural engineer is needed for the project, hourly prices vary from $100 to $200 per hour.
The cost of labor for retaining wall construction is determined by the kind of wall, the time of year, and the current labor demand.
Unskilled and semi-skilled labor may be required to carry gravel, dig foundations, and move blocks for masonry and wood retaining walls. Load-bearing retaining wall projects, on the other hand, are often carried out by experienced landscapers who are certified to construct retaining walls taller than one metre and will oversee less skilled and less costly labor.
Placing secure and aesthetically beautiful stone retaining walls is an art and a craft that should be left to more competent and better-paid craftsmen.
When should a retaining wall be built?
If your property has a slope and you need to create a place for a patio, pool, expansion, or other location that needs level ground, you should construct a retaining wall.
Slopes of more than 35 degrees may become unstable and hazardous, and must be secured. This is determined by the sort of soil you have.
Retaining walls may be erected practically any time of year and in almost any weather. However, digging below the frost line might be difficult if the earth is frozen.
The kind of retaining wall you choose is determined by both your demands and your budget. If you need to rebuild a retaining wall that is in danger of collapsing or if a slope is dangerously encroaching on your property, building a functional and safe retaining wall is critical.
However, if this is an optional DIY project, you must make a decision depending on the look of the wall and your budget. Low-rise walls may be erected even by a novice.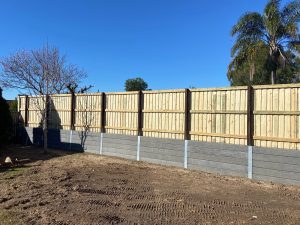 What is the cheapest type of retaining wall?
Timber and masonry blocks are the two most affordable materials for retaining walls. If you build it yourself, 100 square metres of railway sleepers or six by six metres of pressure-treated wood may cost between $1,000 and $1,200, and a higher wall constructed by a professional can cost between $2,200 and $4,600.
Small, 100-square-metre concrete blocks may be installed for $1,000 to $2,300. Larger ornate blocks put by retaining wall builders range in price from $2,200 to $4,000.
What is the easiest way to build a retaining wall?
The simplest approach to construct a retaining wall is with blocks no higher than 1 metre, a height that in many localities needs permits and inspections. If the blocks are cement, stack them without mortar on top.
How long do retaining walls last?
This is determined by the kind and quality of the retaining wall, as well as the soil, water drainage, and upkeep. Masonry retaining walls have a lifespan of 50 to 100 years. Timber retaining walls have a lifespan of up to 40 years.
How big should the foundation of a retaining wall be?
Retaining walls must be supported by a sturdy base, often concrete, for reasons of stability and safety. As a general rule, the base of the retaining wall should be twice as broad as the width of the wall (measured from front to back). Furthermore, the concrete foundation should be reinforced by a 15-centimetre layer of gravel under the frost line.
Compare quotes from the best local structural landscapers in Brisbane
Get free, no-obligation quotes and then go and speak to the Brisbane Retaining Wall experts at Aesthetic Landscaping And Retaining Walls
The post Retaining Walls Brisbane appeared first on https://idcbrooklyn.org
The post Retaining Walls Brisbane appeared first on https://gqcentral.co.uk