Aransas Wildlife Refuge is famous for being the winter home of the Whooping Crane. Aransas County, Texas is one of the hottest birding spots in the country. In fact, USA Today readers recently choice named Aransas National Wildlife Refuge as the number one birding spot in the nation. There you can see 400 different species of birds. Aransas County has long been on the great texas coastal birding trail because of its position on the central flyway path for migratory birds.
Aransas Wildlife Refuge (ANWR)
Texas is home to the Aransas Wildlife Refuge (ANWR). This refuge is known for helping to save the whooping crane from extinction. In 1941 there were only 15 whooping cranes left, this refuge was established previously to help to breed them and took the responsibility to save the whooping crane. The refuge offers many activities for visitors. There are many different nature trails and observation places to enjoy the wildlife from.
Tourists flock to the Aransas Wildlife Refuge Austwell during the winter to catch a glimpse of the whooping cranes. This year was special as a nesting pair of bald eagles was also drawing bird lovers in. About halfway down the refuge's one-way, 9-mile driving loop visitors stop or pull their cars over to watch the iconic birds nesting in the distance.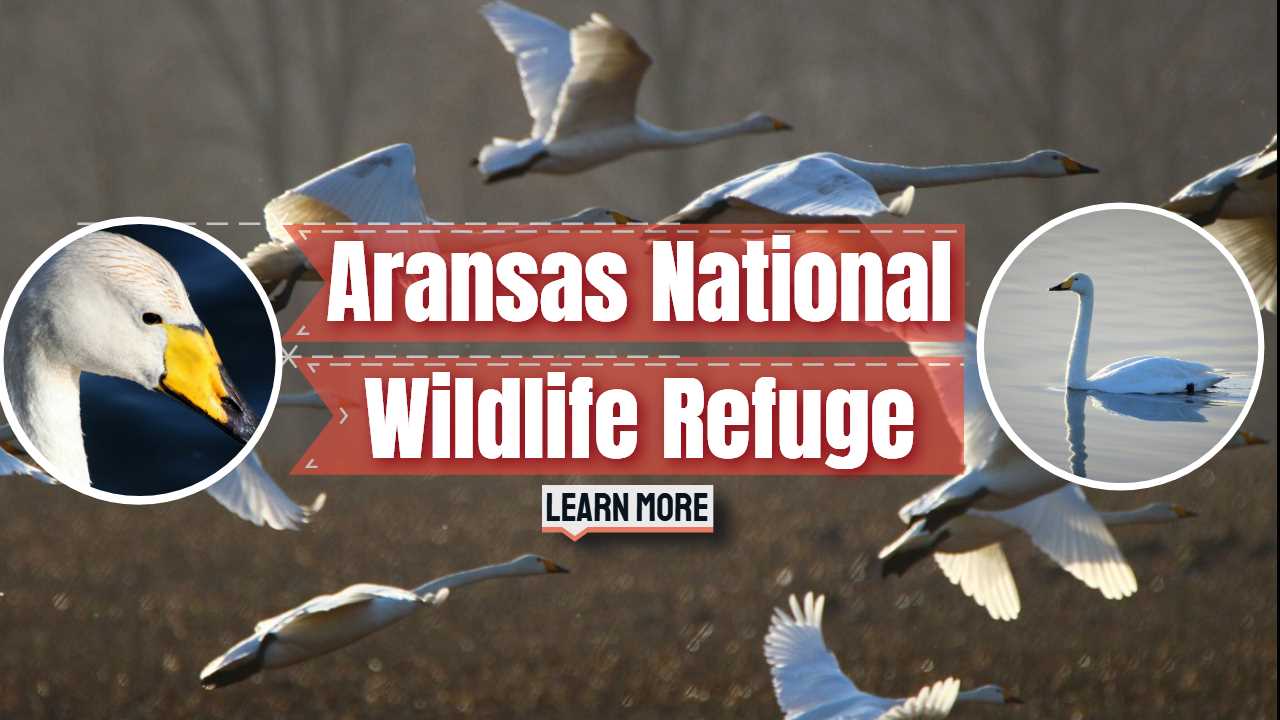 National Wildlife Refuge System
Aransas Wildlife Refuge, coastal habitat conservation area in Southern Texas, U.S., located about 50 miles (80 km) northeast of Corpus Christi. The refuge, parts of which are jointly administered by state and federal agencies, covers a total of 181 square miles (469 square km) on the Gulf of Mexico , including large tracts of land on Matagorda Island and on a broad peninsula between San Antonio Bay and St. Austwell.
The refuge was established in 1937 to serve as "a refuge and breeding ground for migratory birds and other wildlife…" and "…for use as an inviolate sanctuary, or for any other management purpose, for migratory birds…" The wildlife conservation mission of the national wildlife refuge system and the U.S. Fish and Wildlife Service ensures the refuge will continue to conserve, protect and enhance these lands for the benefit of wildlife and the American people.
In 1937 a large effort was needed to protect dwindling populations of migratory birds and other wildlife in the region. Set aside by the executive order of President Franklin D. Roosevelt, this unique gulf coast landscape has remained largely natural. It has been able to continue its ongoing legacy of constant and dramatic transformation That's a process that began when it was first formed roughly 120,000 years ago.
Aransas is considered the "crown jewel" of the national wildlife refuge system. It is the only summering ground for the endangered whooping crane and home to large colonies of birds including pelicans, cranes, herons and egrets. The refuge has a number of small walking trails and also has a scenic 10 mi (16 km) drive through its interior. Wild boar, alligators and armadillos can also be seen at the refuge.
Current weather conditions for Aransas National Wildlife Refuge, Tx, are obtained from the closest government-operated station. That is a personal station contributing to the PWSweather. Com network which may have varying degrees of accuracy Or the forecast may be obtained from the Meteorological Assimilation Data Ingest System (MADIS).
The nearest weather station for both precipitation and temperature measurements is Aransas Wildlife which is approximately 8 miles away and has an elevation of 15 feet (2 feet higher than the refuge trail system).
This refuge is one of over 545 national wildlife refuges spanning the united states and managed by the US Fish and Wildlife Service. The national wildlife refuge system is the only national system of lands dedicated to conserving our wildlife heritage for today and generations yet to come. The Aransas refuge is comprised of over 115,000 acres including the Blackjack Peninsula, Matagorda Island, Myrtle Foester Whitmire, Tatton and Lamar units.
This reserve is a large contiguous complex of wetland, terrestrial, and marine environments named for the two river systems that flow into it. Coastal prairie, oak motte, riparian freshwater, and salt marsh habitats, make up the reserve. The water portion consists of three large, open and shallow bays that support extensive tidal flats, seagrass beds, mangroves, and oyster reefs. The largest wetland habitat (24,400 acres) on the north side of the reserve is part of the refuge and is the winter home to the critically endangered whooping crane.
Just one of five hundred and more national wildlife refuges spanning the US, theses are a national system of lands. Lands that are dedicated to conserving US wildlife heritage not only today but for many generations into the future.
The wildlife refuge is partnering with Texas Parks and Wildlife Department (TPWD) to offer hunters the convenience of applying for refuge hunt permits online. Hunters are now able to apply for the refuge's white-tailed deer and feral hog hunting permits through the texas parks and wildlife department's online public hunt draw system.
Slowly rebounding from near extinction, this bird's survival depends on a healthy gulf.
In the classic fine photo of the refuge a whooping crane typically stretches skyward. It remains a vital refuge for at-risk birds. Resilient whooping cranes have been slowly rebounding from near extinction during the past century, but their survival still depends on a delicate coastal ecosystem.
The friends of  the U.S. Fish & Wildlife Service
The friends of Aransas National Wildlife was founded in October of 1997. They care about the refuge and want to help the US Fish and Wildlife Service with their mission of protecting wildlife and wildlife habitat. With 501 (c) (3) not for profit status, they have grown to approximately 100 members.
It is one of the most popular birding areas in Texas, famous as the best site in the world for the largest wild flock of the endangered whooping crane. In addition, a large number of other birds can be seen there. More than 392 species have been recorded in total, one of the longest bird lists from any of the USA's network of wildlife refuges.
A park entrance fee is charged per day — $3 per person or $5 per vehicle. Note: various passes are available that permit free access to all national wildlife refuges. For more information, refer to the U. S. Fish & Wildlife Service Refuge Passes Dept.
The texas coastal bend has long been a region that whooping cranes migrated to for the winter. This coastal bend includes the deep curved area located along the gulf. One of its largest cities includes Corpus Christi, and other areas include Laguna Madre, North Padre Island, and Mustang Island. In the last few years, a record number of cranes have touched down along the Texas coast.
A recent visitor to the refuge peered through a scope atop an observation deck. She had never seen a whooping crane, and a pair of them towered over other birds foraging on the flats in the distance. "This is a place worth saving," she said. The U.S. Fish and Wildlife Service recently announced it would spend $26. 9 million making whole again a national wildlife refuge carved up by hurricane Harvey.
Aransas Wildlife Volunteers
I want to take a minute to recognize a few long-time volunteers at Aransas Wildlife Refuge that really do make a difference for our wildlife and wild places. First off, a long-time volunteer at Aransas was awarded as the 2017 Coastal Steward by the coastal bend bays foundation at the Annual Environmental Awards Banquet on 7 December. That guy put a great deal of "sweat equity" into Aransas over the years, from mowing, cutting and spraying invasive species to helping our maintenance staff with all sorts of projects.
Aransas national wildlife refuge is a 115,324-acre (466. 7km2) protected area situated on the southwest side of San Antonio bay along the gulf coast of the U.S. State of Texas. It is located in parts of Aransas, Refugio, and Calhoun counties. It is situated on the southwest side of San Antonio Bay, formed by the mouth of the Guadalupe River. It also includes nearly the entirety of Matagorda Island, a 38-mile barrier island.
Don't miss out on the opportunity to see the endangered whooping cranes. We offer the chance to witness these birds in their natural habitat! These are winter and springtime trips to the Aransas refuge. The lowest impact way to see these birds is from the water looking onto the refuge, and there is no better way to see them than in the comfort of the wharf cat and scat cat.
Aransas National Wildlife Refuge was originally known as Aransas Migratory Waterfowl Refuge It is located on the Blackjack Peninsula, eight miles southeast of Austwell and midway between Rockport and Port Lavaca, on the gulf coast. The refuge comprises 54,829 acres of scattered blackjack oak woodlands, fresh and saltwater marshes, ponds, and coastal grasslands on the mainland, as well as 56,668 acres on Matagorda island. Karankawa, Lipan, Tonkawa, and Comanche Indians once occupied the area.
Friends of the refuge recently gave out 500 shells they had painted, as well as roseate spoonbill postcards and Aransas NWR pencils, and information about the refuge. One member created a photo album that she had on display at the table, and that got a lot of interest.
The refuge will resume collecting fees to access the refuge beginning on Friday, March 5, 2021. Fees are used to support and enhance visitor facilities, infrastructure (trails and structures), and public programs. The contact station and restrooms will remain closed (portable restrooms are available). All visitors will need to register and pay the daily access fee (cash only) at the information kiosk/iron ranger.
There was plenty of outdoor fun to be had last autumn at the Aransas Wildlife Refuge in Austwell. Activities included archery and BB gun shooting, kids' fishing, cast netting lessons, crafts, kayaking, junior wildland firefighter events, face painting, casting and fly fishing practice, wildlife games and more.
The bugle of the endangered whooping crane echoes across the far reaches of the marsh. Only at Aransas refuge do North America's tallest birds find an enduring winter stronghold. Here, too, pelicans, herons, egrets, roseate spoonbills, ducks, and geese dine, in brackish waters and salt marshes teeming with fishes, blue crabs, and clams. Onshore, javelinas, bobcats and deer wander oak woodlands.
The Trails in Aransas National Wildlife Refuge, Texas
The refuge is open daily and features a driving trail, walking trails, observation tower, and picnic area. It's a short drive from Port Aransas and the Aransas Wildlife Refuge is well worth it. You can get up close and personal with whooping cranes and alligators. The time we went there with our dog, they told us to leave the dog in the car because it will look like dinner to the alligators! Additional activities include hiking, birding, picnicking, and fishing. Six leisurely hiking trails totalling 4.
Aransas national wildlife refuge is a 114,657 acre (464 km2) protected area situated on the southwest side of San Antonio bay along the gulf coast of the U.S. State of Texas. It is located in parts of Aransas, Refugio, and Calhoun counties.
My husband and I have been to that refuge several times over the past 20 years. It is a huge refuge at 115,324 acres. We spent about 4 hours at the refuge on this visit. We found 7 alligators on the rail trail ( 0. 3 miles) and heron trail ( 1. 4 miles ). Part of the heron trail was closed due to a damaged footbridge. We had gone to the wildlife refuge in the spring for the first time to photograph the whooping cranes at the refuge. However, the morning of our trip was so foggy all of the photos were pretty disappointing. At that time we decided we had to go back in November and indeed we did return. We found out about Kevin Sim's charter boats, Aransas Bay Birding Charters, and booked a trip on the jack flash.
Barn owls are still quite common in the refuge, and I took a wonderful photo of a fox squirrel standing on top knotted bark of a tree. Another great shot was of an alligator hiding in the brush. So for my money, Aransas County, Texas is indeed one of the hottest birding spots in the country.
Aransas refuge is displayed on the "Mesquite Bay" USGS quadrangle of their topo map. Anyone who is interested in visiting Aransas National Wildlife Refuge can print the free topographic map and other maps using the link above. The location, topography, and nearby roads and trails around the refuge (park) can be seen in the map layers.
Texas Parks and Wildlife Department (TPWD) offers a variety of draw hunts. I usually put my name in the hat for a couple of them every year, but I never had any luck getting drawn. That all changed this past December when I received an email from TPWD informing me that I had been drawn for a hunt in the Aransas Wildlife Refuge. The quarry was whitetail deer and feral pigs.
Wildlife Refuge Check List
You have a vacation wish list a mile long, but there's one spot that needs to be checked off now. You're not about to be the only person who hasn't seen that national wildlife refuge, so it's high time you see it your way. We found an absurdly cheap deal on a hotel near the refuge. What's a vacation anyway if you can't treat yourself?
For bird-watchers, the 115,000-acre ANWR is the premier site on the Texas coast, with more than 400 species having been documented here. Even people who don't carry binoculars and ornithological checklists can get caught up in the bird-spotting frenzy. It peaks here every March and November but is still great throughout the year. None are more famous, more followed or more watched than the whooping-cranes – among the rarest creatures in North America.
Situated on the Texas Gulf Coast along San Antonio Bay, the 70,504 acres of the ANWR are host to an exotic array of wildlife, including alligators, javelina (collared peccary), snakes, bobcats and whooping cranes. A 16-mile one-way driving tour takes visitors through the refuge's grassland, oak thicket, freshwater pond, and marshland habitats, providing excellent wildlife viewing opportunities.
How often do you visit the Aransas Wildlife Refuge?
Bird watching enthusiasts will want to take a short 45-minute drive to the refuge located on the San Antonio Bay near Austwell. This remarkable place is home each season to thousands of migratory birds including pelicans, herons, egrets, spoonbills, shorebirds, ducks, and geese.
The white prickly poppies are in full bloom in early May. Against a clear blue sky, the temperature is rising, but the spring flowers bring relief, at least in a visual sense. This was my first visit to this particular refuge, yet it feels familiar. In my experience, the refuges share a stillness that sets them apart from the world we come from.
All the information you need to know about ANWR Airport is available online. While vacationing in Rockport, Texas, we visited the ANWR and Mustang Island State Park. They were both about a 30-minute scenic drive from our spot at Bay View RV Park. We took many pictures, shot a few videos, and got sweaty in the hot and humid Southern Texas weather.
Aransas Rail Trail in the Wildlife Refuge Austwell
Aransas national wildlife refuge rail trail is a 1. 2 miles moderately trafficked out and back trail located near Austwell, Texas that features a lake and is good for all skill levels. The trail is primarily used for walking, nature trips, and bird watching and is accessible year-round. Dogs are also able to use this trail but must be kept on a leash.
The youth conservation corps workers spent 8 weeks working in different areas of the Aransas National Wildlife Refuge. The students spent one day working in the pollinator garden. They did an amazing job and accomplished more in one day than we ever imagined possible.
Refuge Whooping Crane Survey
The refuge begins posting updates once the birds begin arriving (around mid-October) and posts information frequently until the birds leave for their summer home in Canada (near the end of March). Once the birds have left their wintering grounds and the data has been fully analyzed, the refuge prepares the Aransas-wood buffalo whooping crane abundance survey, a full report on the season. This information will also be made available to the public.
The ANWR completed the annual whooping crane abundance survey 2021 in the last week of February and were able to fly three primary surveys and two secondary surveys. Areas surveyed stretch along the Texas coast from Matagorda to Port Aransas. The pilot with the USFWS migratory birds program, flew the survey crew in a wheeled Kodiak again this year. In addition to an overall estimate of the winter population size, the survey provides the ANWR with an estimate of how many juveniles were "recruited" into the population last summer.
This article was originally posted on https://holidaynexus.com/
The Article Aransas Wildlife Refuge – Winter Home of the Whooping Crane First Appeared ON
: https://gqcentral.co.uk